What's New...



This February 25th, Wayne will be appearing at the Galiano Literary Festival.

Indigo/Chapters named First Snow, Last Light on its best books of 2017 list.

An interview with Wayne, done by Shelagh Rogers, will air on CBC radio's The Next Chapter on November 6th and will be rebroadcast on November 11th – after the interview is first aired, it will be available to listen to here.

First Snow, Last Light has made it onto The Globe and Mail's Best Sellers List four weeks in a row.

Read these rave Toronto Star and The Globe and Mail reviews of First Snow, Last Light.

A new novel - First Snow, Last Light - will be released this fall, marking the third appearance of Sheilagh Fielding in a Wayne Johnston novel.

Pre-orders for print copies can be made at Amazon and Indigo while E-book editions can be found at iBooks and Kobo.

Colony of Unrequited Dreams and The Son of a Certain Woman made The 150 Great Canadian Books list!

Follow me on Twitter and check out (and like) my author page on Facebook...


The Son Of A Certain Woman
Fiction
Knopf Canada
Hardcover, 448 pages
September, 2013

Shortlisted for the 2014 Stephen Leacock Prize.

Nominated for the 2013 Giller Prize.

Read this feature story in the Ottawa Citizen.

See Wayne's comments in Haslitt on Joyce's Ulysses and The Son of a Certain Woman.

Read reviews in Maclean's, Montreal Gazette, Chronicle Herald, Newstalk 1010, Edmonton Journal, Waterloo Record, Winnepeg Free Press, Toronto Star and Globe and Mail.

See book "trailer" here.

Excerpt published in The Globe and Mail and in the Calgary Herald.


See this recent feature in The Scotsman Newspaper by David Robinson.

A World Elsewhere
Fiction
Knopf Canada
Hardcover, 320 pages
August, 2011

Now available in trade paperback and ebook formats. Long-listed for the 2013 Dublin Impac Award

Selected by Mail on Sunday as one of four books of the week.

Recent reviews of A World Elsewhere:

"Drawing on the real-life Vanderbilt legend, this is a strange, utterly original novel, essentially about fathers and sons" – Mail on Sunday - see more

See also a recent review in The Guardian

"Read it and revel in one of the funniest books that will move you to a deeper sense of the poignancy of human experience" T.F. Rigelhof - The Globe and Mail - see more

"As in such earlier work as The Colony Of Unrequited Dreams, The Navigator Of New York and in his prize winning memoir, Baltimore's Mansion, Wayne Johnston knows how to tell a good story" Nancy Schiefer - London Free Press - see more

See an author interview - Youtube

Recent author profiles:
The Globe And Mail
The National Post
The Toronto Star


Praise for Wayne Johnston


Wayne Johnston is prodigiously talented.
-- The Globe and Mail

Wayne Johnston is a brilliant and accomplished writer and his Newfoundland boots and boats, rough politics and rough country, history and journalism is vivid and sharp.
-- Annie Proulx

Unlike most recent bestselling novels that are remembered for the plane flight and then promptly forgotten, Wayne's stories have characters who move in and take up permanent residence.
-- Mary Walsh

[Johnston is] a literary giant who has god-given talent.
-- Will Ferguson, The Globe and Mail

His books are beautifully written, among the funniest I've ever read, yet somehow at the same time among the most poignant and moving.
-- Annie Dillard



Welcome to my web site. I feel like adding said the spider to the fly. I'm writing to you from a sound-proofed bunker in my basement. I have a low tolerance for noise, one of the reasons that I prefer to write at night - sometimes all night. If you have questions about me or any of my books, I'll do my best to answer them. I really appreciate direct feedback from readers, especially the ones who like my books. It won't change the way I write my books and my answers may not change the way you read them, but at least we'll have closed that gap between writer and reader.

To send me an email, click here. Should I not respond to your queries or comments, please alert my publicist: Ashley Dunn at adunne@randomhouse.com (or 647-788-3976) and tell her of my inexplicable silence. See you on the literary hustings.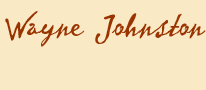 See Wayne's On My eReader selections.